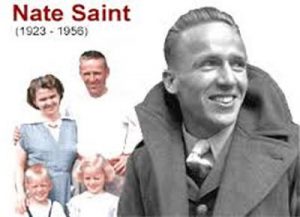 Nate Saint (1923-1956)
His air-service ministry to isolated missionaries would eventually put him on a path of destiny that would end with four missionary friends in the jungles of Ecuador.
Nate Saint was an ex US Airforce pilot who was involved with the Mission Aviation Fellowship almost from its start. In 1948 he and his wife went to Ecuador and operated a small aeroplane from a base at Shell Mera.
Nate provided an essential service to those missionaries in the mission stations deep in the jungle.
Jim Elliot and Peter Fleming arrived in Ecuador in 1952. They decided to take the gospel to the Auca indians and started working with Nate to establish a mission station. What happened next is described the Jim Elliot story.