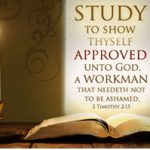 July 24, 2016
A Word in the Stone House: WHAT ARE THOU IN THE HOUSE
Bible Reading : 2 King 4 : 1 7
Life has little to do with speed; but much with direction. And there can be no direction without divine instruction. Prov.13:1. Man's understanding about life and his environment is limited to his natural senses.
This limitation however, can be overcome by the interplay of his spirit and soul. Often times we fail to acknowledge that man is a spirit being, having a soul and lives in a body. All of these three compartments must be fully functional before anyone can attain fulfillment; hence the need to be spiritually alive (born again).
Proverbs 20:27; John 3:3.
Our obedient to divine instructions will guarantee unhindered access to divine blessings. Some of these instructions could be repugnant to common sense in many ways. God has not called us to understand Him but to believe His Word. This woman partially obeyed the servant of God and got a very limited result as against what God intended for her family.
WATCH OUT for these prophetic interpretations: Short the door means keeps the door of your mouth. Prov.13:23; Pour out into all those vessels means you must empty yourself into others; do not be stagnant – Jeremiah 48:10 12 Amen.
S e l a h